Have you ever wondered what is the best thing that you can ever experience being a fan of adventure series or games? Well, if we tell you then it is wearing the costumes of the character from that specific movie, series, or game. Even listening to this thing excites you right? Well, what if we tell you that we have a piece of great news for you? But wait, what if rather we show you the Devil May Cry Clothing? Oh, let us guess that it will make your day. That was our actual motive by the way. This time for your best Halloween look we have got you these 5 Best Devil May Cry Cosplay Costumes.
Devil May Cry is an action and adventurous video game series. The world-famous video game series is created by Hideki Kamiya. He is a Japanese video game designer and director. He has done some really commendable work in the field of game design. This video game is developed under the name of Capcom. The action series Devil May Cry 5 is directed by Hideaki Itsuno and the writer of this is Bingo Morohashi. Hideki Kamiya also created one of the popular gaming series called Resident Evil. If anyone here is a fan of the main character of the Resident Evil, Leon Kennedy. Then, we also bring for your the Resident Evil: Leon Kennedy 5 Best Stylish Jackets. You can now enjoy your favourite character outfits.
Devil May Cry 5 Dante Leather Coat
Our unique collection of Halloween costumes holds many Devil May Cry Jackets and coats. But there are some of the attires that definitely stand out. This Devil May Cry 5 Dante Leather Coat comes at the top of the list. This spectacular red-colour long leather coat can definitely be the best choice for you at this year's Halloween party. This coat holds a vast list of features in this that makes it look more stunning. This is crafted with premium quality and pure leather material. And not just that it is also meticulously merged from the inside with the inner lining of soft viscose fabric. The leather exterior gives it a bold and tough look while the soft viscose inner makes it the comfiest attire. That means this DMC 5 Dante Coat provides a bold and comfortable look altogether. So what else do you want? Hurry up and add it to the cart right away.
Devil May Cry 5 Nero Blue Coat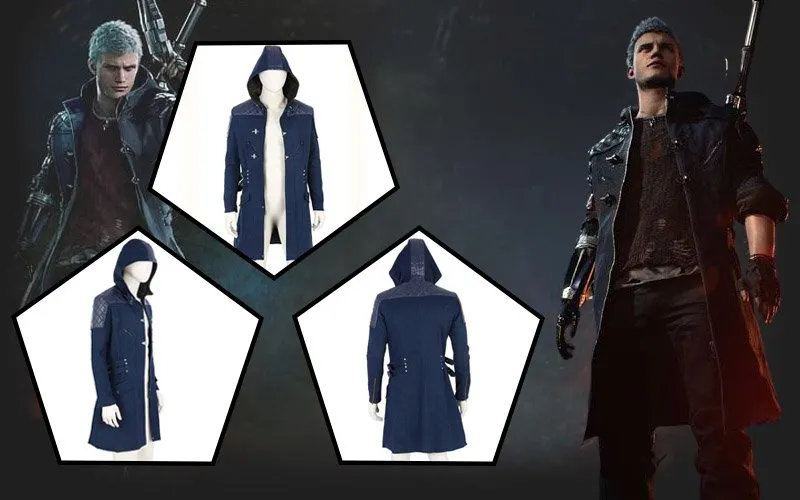 Make some more space in your closet because we own a long list of Devil May Cry Jackets and Coats this time for you. Keep your heartbeats normal because the next on the list is this Devil May Cry 5 Nero Blue Coat. This one is the trendiest and most amazing coat from the whole series. If we say that this holds that beauty that one can not keep themselves away then this would not be a wrong statement. This stunning piece of attire is the creation of a master-quality wool blend and real leather material. And of course, just like always by keeping your comfort in mind we have interlined it with the soft viscose lining. And we talk about its features, we see that it has a buckle front closure and hooded collar. Also, it consists of long comfy sleeves with the ends of zipper-style cuffs. The leather work on the shoulder and multiple pockets give this blue colour coat a ravishing look. So what makes you not fall in love with its exquisitely beautiful look? Just make sure you are creating some fantastic looks on Halloween with this pleasing coat.
Devil May Cry 5 Dante Leather Coat
Where are the black lovers? Oh, there you are. Were you thinking that we do not own anything for you? How could it be possible dude? We own this ravishing Devil May Cry 5 V Leather Coat for you. It has a fantastic appearance and the leather crafting enriches its beauty the most. And not just that because we have further added a soft viscose inner lining into this because your comfort comes first for us. The further list of the highlighted and most enchanting features counts a classy lapel style collar, and open style frontal. It is a sleeveless coat and holds two spacious inner pockets. So put your hands in this dazzling black attire and create a frightening look at the coming Halloween party. And make everyone appreciate your style sense.
Devil May Cry 4 Dante Leather Coat
There is one more DMC 5 Dante Coat that we have for you. Because we want you to stand tall and beautiful among all. Be it a Halloween night or Christmas we want you to always adopt the best look. A look that makes everyone turn their head and appreciate you. Well well well, this Devil May Cry 4 Dante Leather Coat. is indeed the perfect attire for you. This stunning red colour long coat is crafted with the use of high-quality leather material. And for the extreme level of comfort of our wearer, we have interlined this with a soft viscose lining inner. We have also taken care of the proper fascinating look of this. That is why we added the features like a shirt-style collar, a zippered frontal, and half sleeves. It also has two flap-style pockets on the outer waist.
Devil May Cry 5 Vergil Coat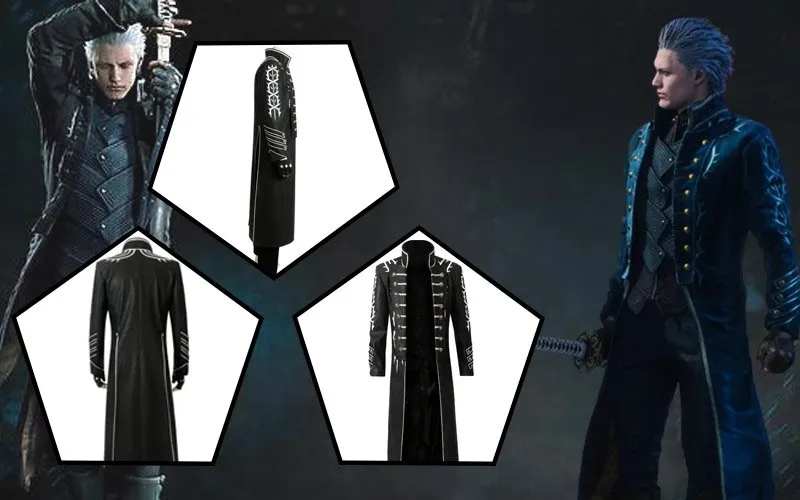 Now we are at the end of the
Best Devil May Cry Cosplays Outfits For Halloween 2022
list. And we would like to wrap our blog with this super attractive and appealing
Devil May Cry 5 Vergil Coat
. The fantasy and cool vibes of this mesmerizing coat from the series will blow all the audience's minds. And you will be able to show your magic. This coat is a fabrication from high-quality faux leather material. And of course, for your complete comfort with the alluring look, we have merged this with the inner lining of soft viscose fabric. The highlighted features of this are a high stand collar and an open style with a metal buttoned frontal. It also holds long sleeves with open hem cuffs. It comes in black colour with white detailing over this. We are sure that this has successfully made its way to your heart. So do not hesitate and just buy this for a brilliant look.
Conclusion
These were the badass looks for your Halloween this year. Choose your favourites now and make a fantastic appearance just like your favourite character from the Devil May Cry. Happy shopping, and Happy Halloween.