We bring a top-notch yet fascinating fashion guide for our dedicated followers. But this time, the topic is These 6 Best Cyberpunk Halloween Costume Ideas 2023 which surely will be very useful for you as Halloween is near. It is based on a famous video game that was released in the year 2020 & has worldwide hype. It's an open-world action game with a super-interesting storyline & visuals. This game even had a cameo of Keanu Reeves in it making it even more famous for the players.
In today's blog, we are going to talk about the showcased or inspired costume that you need to know for this Halloween. In this conversation, we will also be discussing Cyberpunk 2077 Merchandise that you should buy for the upcoming Allhallows Eve event. You can choose them as per your fashion need & make your appearance as mesmerizing that reflects your personality.
There are many fans of the following video game who are willing to try Cyberpunk Outfits at affordable prices. Well, if you are one of them, go for our Cyberpunk Collection and choose your favourite costumes. Each of them has vibrant colors, and outclass fabric quality that makes the wearer comfortable & helps them to get the desired look.
Now, let us talk about some of the best Cyberpunk 2077 Jackets, vests, and coats that are must-buying items for this Halloween. Also, we will give you tips and tricks to create the most unique Allhallows Eve look with those jackets. So without any delay, let's start today's conversation.
Cyberpunk 2077 Yellow Jacket to Choose to Make This Halloween Memorable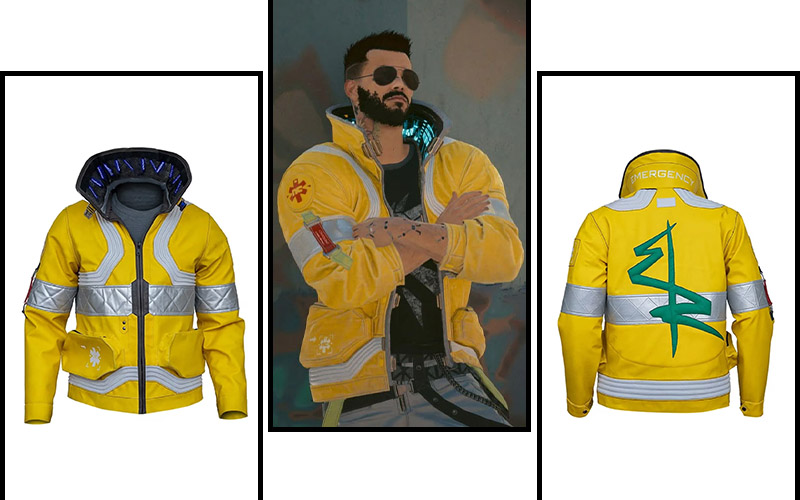 This stunning Yellow Jacket is one of the most appealing outerwear that every fashionista must buy. This fashion piece has an eye-catchy yellow color that grabs the attention of everyone no matter where you go. The manufacturers of it have made it with genuine/faux leather that gives this masterpiece a classic texture.
Not only this, but they have also added viscose lining underneath it to make it soft for its users. Also, this top layer comes with a stylish zipper closure that enhances the exoticness of it. Other than that, the large stand-up collar is a unique feature of this jacket. This is one of the most admired Video Game Jackets in gaming history.
How to Enhance the Desired Halloween Look through this Fashion Piece?
To have an Allhallows Eve look with this jacket, all you need to do is to follow these instructions to get a jaw-dropping Halloween look:
Pick up a black pen, and draw cracks on your face to create an illusion of a cracked face.
Take the same pen and draw different designs on your wrists and at the back of your hands just like tattoos.
Take a white T-shirt and put some red paint on it to make it look bloody.
Wear black leather pants.
Put on any casual shoes to complete the look.
Johnny Silverhand Vest to Flaunt This Year
Another astounding fashion staple is here. Wondering which one we are talking about? Well, we are talking about the Johnny Silverhand Vest which is inspired by the heartthrob of the nation "Keanu Reeves". This vest is made up of genuine leather having viscose lining inside of it. It is black which is a favorite of men. The reason for it is that they believe that wearing black makes them look assertive and daring.
The Perfect Halloween Look
The best way to have the Halloween look with this vest is to disguise yourself as a zombie. To achieve this look, all you need to do is to follow the steps given below:
Put on a black T-shirt. Then take a scissor and put small cuts all over it.
Next, you gotta wear cotton pants, and put some dust on them.
After that, make your hair messy with the help of your hands.
In the fourth step, take black paint and draw black circles around your eyes.
Then, put a little amount of red paint on your lips, and there you go with your unique Halloween look.
The Cyberpunk 2077 Johnny Silverhand Jacket to Choose for Yourself
Here we are again with another apparel item of Johnny Silverhand inspired by Keanu Reeves. The appealing Johnny Silverhand Jacket is an exotic outerwear that you need to try. The features of it include a zipper closure, peak lapel-style collar, and stylish zipper cuffs.
If we talk about its fabrication, we would tell you that this masterpiece is crafted with leather material. By keeping the comfort of its wearers, our style experts have attached viscose lining underneath it. Plus, this jacket comes in black color which is a favourite of men. One of the reasons for it is that they believe that wearing black makes them look powerful when it comes to clothing.
How to Elevate the Charm of the Allhallows Eve Look with This Cyberpunk Jacket?
To get the perfect Halloween look, you will need to follow these steps:
Get a pair of silver shiny pants, and put them on.
Put on the following highly-fashioned outerwear
Wear silver gloves.
Paint your hair silver if possible, and there you go with the perfect Halloween look to rock.
The Jackie Welles Jacket to Pick to Create a Jaw-Dropping Look
On number 4th, we have this voguish top layer to pick for your Halloween look. This rad jacket features a chic zipper closure and rib-knitted waistline. Other than that, the fabrication of this outerwear is real leather and viscose lining. Plus, this masterpiece is available in black color which is perfect for your Halloween look. To achieve a dark-themed Halloween look, you will need to follow the following steps:
First of all, take a black pen, and draw some cracks on your face to create the illusion of real cracks that your face is having.
Secondly, take pink lipstick and use it to make some bruises on your forearms and hands.
In the final step, put on black ripped jeans to get the job done.
Samurai Bomber Jacket To Celebrate This Halloween with an Eye-Catching Style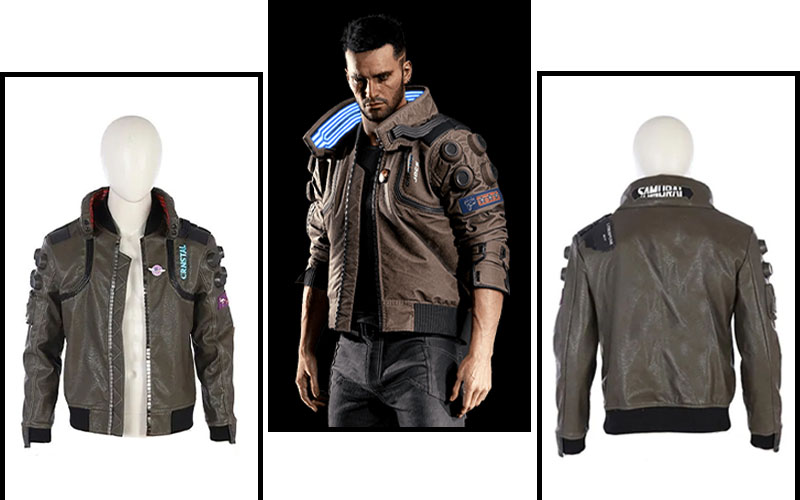 Here we have the Samurai Bomber Jacket to grab if you want to create another zombie look for the upcoming Allhallows Eve. This masterpiece is designed with faux leather. It features a stand-up collar and rib-knitted cuffs. Not only this, but this apparel item also consists of a front open closure. Other than that, rib-knitted cuffs also exist in this piece of perfection. Now let's talk about how you can achieve a perfect look with this jacket that we have in our Cyberpunk Collection for this Halloween:
Wear a black T-shirt along with black ripped jeans.
After that, get your hands on this outerwear, and put it along with other clothing pieces.
In the third step, put some fake blood stains on your clothes with the help of red paint.
In the second last step, put some powder on your face.
Now draw black circles around your eyes with some fake blood on your mouth to complete the look.
The Evelyn Parker Coat to Get this Upcoming Halloween
On number six, we have the Evelyn Parker Coat to get for the perfect Halloween look. This coat is made up of faux leather and viscose lining. It features a fur-lined shawl lapel collar that distinguishes it from other coats. Other than that, there is a zipper closure installed in this fashion piece. At the same time, rib-knitted cuffs play an important part in making this coat exquisite. Also, the gray and purple fur of it makes it funky. It is one of the most exotic Video Game Jackets ever that you need to try this Halloween.
How to Complete a Halloween GetUp with This Coat?
To get a Halloween look with this coat, you will need to follow these steps:
Pick up long black shiny leather boots.
Grab a red mini-dress.
Get a blue wig.
Stick fake nails to your nails and paint them black.
Now put on all this stuff and there you go with another amazing Halloween look.
Note: You can additionally apply green eyeshadow and purple lipstick to take your look to another level.
Final Words
So, there you go with our top 6 Halloween looks that you need to choose from for this Halloween. We are sure that you must have found them useful. So that's it for today. See you in the next blog. Till then, take care.