America has made thousands of tv shows and only a few make it to the top. One of those top shows is the Yellowstone which is invented by Taylor Sheridan and John Linson. The show's pilot was released on 29 June 2018 and since then this show has been a subject of great discussion. Among its viewers because of its captivating plot and the setting of the show which is Western America. The story of the show revolves around the Dutton Family who dominates the largest ranch in the United States and that invites negative attention from the greedy landgrabbers.
The show's casting is truly tremendous as it includes Kevin Costner who plays the role of John Dutton who is the head of the family, Luke Grimes as Kayce Dutton, Wes Bentley as Jamie Dutton and many more but the most important one is Kelly Reily who plays the bold and charismatic character of Beth Dutton. Beth is considered the heart of the show because of her unique charisma portrayed on the screen. Her boldness combined with her great sense of style makes her an ideal among women. She is the true definition of feminism. It's a dream for many ladies out there who wish to look as stunning as Beth. The good news is that through our site you can make this dream a reality because we specialise in creating the perfect replicas of the outfits worn by the characters on the show and right now Beth Dutton's outfit is up for grabs now so you can Dress Like Beth Dutton.
Beth Dutton Blue Coat
Following are some of the Beth Dutton Inspired Outfits which made history in fashion. Starting from Yellowstone Beth Dutton Blue Coat which is a glorious blue hooded coat which is made through the material of jacquard which is the most ideal material to wear in the winter season plus the interior of viscose creates more comfort. This coat acts as a cute poncho which has a Native American touch to it and some cool features such as elkhorns buckles, a stylish hooded collar and an open front with a single buttoned closure. This poncho is perfect for you to flaunt in front of your friends at hangouts.
Yellowstone Beth Dutton Wool Blend Coat
Yellowstone Beth Dutton Wool Blend Coat is another fashion miracle worn by the Queen of Montana aka Beth Dutton. Created through the finest of wool and stitched meticulously is made a masterpiece such as Kelly Reilly Yellowstone Season 02 Blend Beth Dutton Coat. This is a half-length coat with a glamorous shearling collar that complements your neck, a beautifully aligned front buttoned closure and long sleeves with buttoned cuffs with two flap pockets at the front. This coat is designed in a chocolate brown colour with an off white shearling collar which looks heavenly. No doubt Beth chose this coat and not the other dull ones!
Beth Dutton Yellowstone Black Notch Neck Jacket
Pondering over what to wear at your next formal meeting? Beth has covered that for you by flaunting Beth Dutton's Yellowstone Black Notch Neck Jacket and giving us great inspiration. This formal jacket is tailored carefully through a suiting fabric externally and internally through viscose lining which tends to make this jacket more breathable. It has a stylishly designed notched collar with a single buttoned front closure making it looks extremely elegant. This jacket has made it easy for you to look extravagant at your formal meetings.
Yellowstone Season 4 Beth Dutton Leather Jacket
Beth has made it easy for you to pull off a hot biker look by wearing the Yellowstone season 4 Beth Dutton Leather Jacket which has all the elements you seek in a biker jacket. Premium quality leather is used, which gives out a lustrous glow, to fabricate this cool looking jacket and to promise you a comfortable experience this jacket has an inner viscose lining too. It contains a notched lapel collar with zippered front and long and fitting sleeves which looks sleek and modish. Thanks to Beth, now pulling off a biker look is just a click away.
Yellowstone S04 Beth Dutton Wool Shearling Coat
Presenting one of the iconic looks of Beth where she won millions of hearts by looking ethereal in Yellowstone S04 Beth Dutton Wool Shearling Coat. You have to make this a staple wear for winter because it ticks the box of comfort plus style. It's styled through the soft material of wool externally and internally through viscose lining. Which together give you a blast of comfort. Coming to its stunning appearance it is ornated with a shawl lapel shearling collar and an elegant buttoned closure with Two Waist Pockets Outside, Two Pockets Inside to keep your stuff safe and hands warm. Give this coat a chance and we promise you won't regret it.
Yellowstone Beth Dutton Black Coat
You have probably seen a million black coats but none of them would have struck you but Yellowstone Beth Dutton Black Coat is surely a striking one because of its heavenly features and comfortable material.The stunning features of this coat.Consist of a peaked lapel collar and an open front with a stylish double-breasted buttoned closure. What a waste of life to not flaunt this exquisite coat!
Yellowstone Kelly Reilly Tweed coat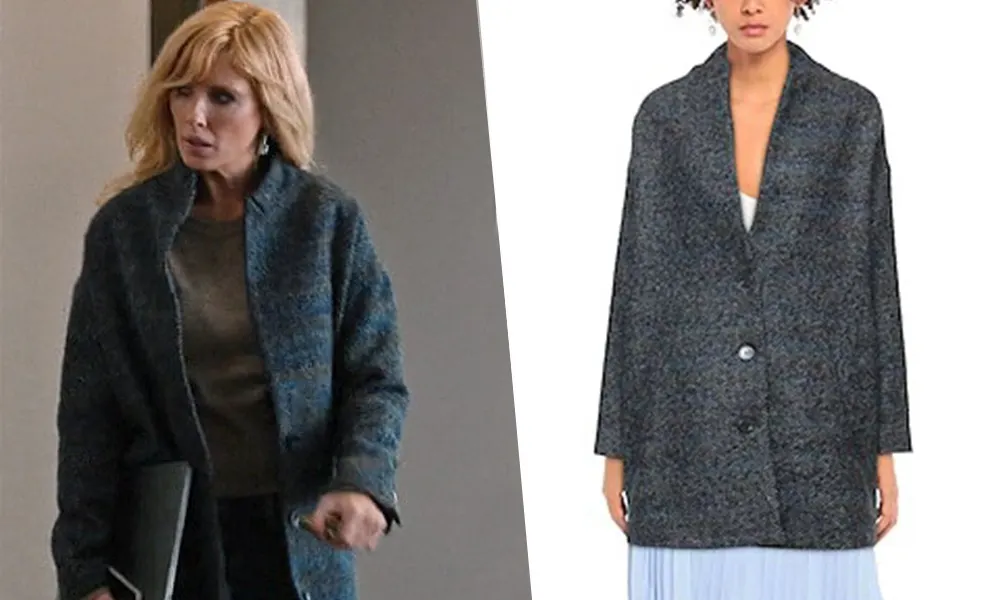 Beth Dutton surely doesn't come slow in her personality and neither in her awesome sense of style, after all, she gave inspiration to Yellowstone Kelly Reilly Tweed coat which is blended in the material of wool with a soft inner viscose lining. Amenities include a trendy stand up style collar with a buttoned closure Two Waist Outter, Two Inner Pockets. Wear this unique coat with any bright coloured shirt and pair it with jeans and own a great chic look.
Yellowstone S04 Beth Dutton Green coat
Who says you can't look as fashing as Beth? It's as simple as wearing a Yellowstone S04 Beth Dutton Green coat and you are good to go! Its made externally through wool material and contains an interior of viscose which will keep you cosy throughout. This green miracle consists of a notched lapel collar and an open front with a single buttoned closure. Stylish Unique olive green colour.