Pants:
The pants of this suit have also been constructed with the use of great quality suiting fabric. Just like the blazer it also holds some pockets. You will find two side pockets and one back pocket on this. The color of the suit is grey, which is surely a perfect color for the gentleman.
This breathtakingly captivating blazer from the movie grabbed most of our attention at the first glance. It looks so stunning and passes perfect outstanding vibes. This lavish The Gray Man Ryan Gosling Red Blazer is crafted with the best quality suiting fabric. For the complete comfort of the wearer, it holds the inner lining of viscose fabric as well. Moving towards its features, it holds a buttoned frontal, a lapel-style collar, and long sleeves along with rounded cuffs. Multiple pockets make it look more stylish. Two pockets are located on the outer waist and two on the inner waist and one on the chest. It comes in a red color that will make you stand out for sure.
Adding some more Ryan Gosling outfits to our list of The Gray Man outfits. With his elegant suits and blazers collection, his casual wear jackets also kept our eyes on their beauty. This The Gray Man Ryan Gosling Jacket looks so alluring. It is surely a great addition to your jacket collection. The exterior of this is constructed with pure great quality cotton material. And the interior has been made with viscose lining to keep you comfortable and warm. In features, it contains a zipper closure, a stand-up collar, and long sleeves along with rib-knitted cuffs. Its two-sided waist pockets and grey color make it a more likable attire.
So, all Ryan's fans out there hold on to this one as this is the last attire that is inspired by him. Though we surely agree that he looked divine in all of them and slew all his looks. But this jacket from Best The Gray Man 2022 Outfits stands really tall. The injured Ryan in the character of Court Gentry nailed the scene with his fantastic acting skills. This jacket is a craftation of cotton polyester material with soft viscose fabric lining. Some more features of this beautiful jacket include a zippered frontal, an erect style collar, and long sleeves along with rib-knitted cuffs. Two outside and two inside pockets will let you keep all your belongings. The black color of it with the red stripes has some amazing spectacular vibes.
Among other talented stars in the upcoming movie, Rege-Jean Page has also marked his name with a great performance. We are so excited to watch his complete performance in the movie. We cannot forget to add this blazer to our The Gray Man trendy outfit list. The exterior of this blazer has been crafted with master-quality suiting fabric. The interior of this The Gray Man Rege-Jean Page Blazer is made with the use of soft viscose lining fabric. The great combo of these two fabrics will provide you with a perfect look and amazing comfort. The stylish features it contains are a lapel collar, rounded cuffs, buttoned frontal, and multiple pockets. Two pockets are present on the outside and two are present on the inside. It also has full sleeves and comes in the all-time favorite Black color of all.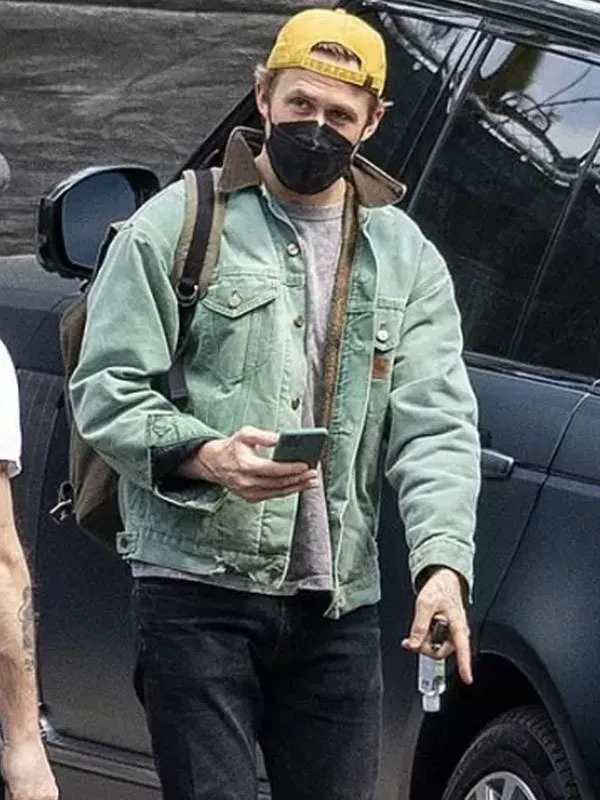 And the list of The Gray Man trendy outfits is continued with the outfits inspired by the handsome Ryan Gosling. Along with the perfect suits for the special occasion, he also appeared in jackets for brilliant casual looks. The Gray Man Ryan Gosling Denim Jacket that comes in the light green color has hooked our eyes. In the craftation, master-quality denim fabric has been used. For interior comfort, the viscose lining has been placed. Further, the design owns the features like a buttoned frontal, shirt-style collar, and long sleeves with button cuffs. Two chest pockets, two outer waist pockets, and two inner pockets are also part of it. That definitely enriches its look.
Christopher Robert Evans is an American actor with incredible acting skills and a magical personality. He appeared in the movie, as he depicted the character of Lloyd Hansen. We are already fans of Chris and are so excited to watch him in this new role. As far as we have seen him in the currently released trailers, we have loved his attire so far. So, one of them is this: The Gray Man 2022 Lloyd Hansen Black Jacket. This amazingly fitted and gorgeous outerwear is made with the use of a great quality wool blend. The stunning features of this are a zippered frontal, a shirt-style collar, long sleeves, and rounded cuffs. It also contains two outside pockets and two inside pockets. And above all what will make you love it extremely and highlight all its features is its pleasing Black color.
How could the list of The Gray Man trendy outfits be completed without adding the elegant attires for our ladies? It couldn't be right. So have a look at this Dani Miranda The Gray Man 2022 Blazer. This outerwear is an imitation of the blazer of the gorgeous actress Ana de Armas. She is a Spanish and Cuban actress who illustrated the character of Dani Miranda in the movie. She is no doubt a beautiful actress and we are really looking forward to watching her brilliant acting skills as well. This blazer of hers is crafted beautifully with wool blend fabric and holds a lining of viscose fabric. What further it has is a buttoned frontal, a lapel collar, some pockets, and open hem cuffs. It has long and comfortable sleeves. Two outside pockets and one inside pocket are also a great part of it. It has a white base color and a colorful floral print all over it.
The journey of The Gray Man outfits that caught most of our attention this season has come to the end with this cotton fabricated jacket. This The Gray Man Ana De Armas Bomber Jacket is also the imitated outfit of the Dani Miranda jacket. She will appear in a scene while draping herself into this fantastic bomber jacket. She looks splendid and so can you be. For all-day comfort, this jacket contains the inner lining of viscose fabric. Moreover, its stylish features are a turn-down stylish collar, a zippered frontal, rib-knitted cuffs, and long sleeves. Comes in a brown color that will give a great compliment to your everyday outfits. To keep your valuables, it holds two outside and one inside pocket.
Conclusion
We have fulfilled our duty to provide you with all the trendy and stylish attires from the soon-to-be-released movie The Gray Man. Now it is your duty to fill your carts with the great and stunning outfits from the movie even before its release. Then fill your carts and look as tremendous as your favorite stars.
Happy shopping!