Shop Halloween Outfits
Ready To Have The Best Halloween Of The Year With Jacket Hub?!
And once again, the seasonal wind is ready to bring an awaited change in the fashion houses. The pleasantly warm summer/spring breezes of June and July are slowly changing into autumn wintry chilly winds that are incomplete without the trick-or-treating Halloween, mouth-stuffing Thanksgiving, and the perfect New Year! Although the Thanksgiving and New Year events are a bit far away, Halloween and everyone's favorite month of the year, October, are just around the corner. So, have you decided on your Halloween costume yet?! If not, take a seat and relax as Jacket Hub's Best Halloween Costumes Collection of the year is here to take your breath and mind away with the finest fabulous to scaring outfit ideas to opt for!
But, What Is Halloween?
Celebrated on the night of October 31st, Halloween originates from the ancient Celtic festival of Samhain when people would light bonfires and wear costumes to ward off ghosts. Considered as one of the popular holidays in many countries around the world, Halloween lets people dress up in costumes and go trick-or-treating, and many homes are decorated with jack-o-lanterns, spider webs, and other spooky decorations. Halloween is also a time for parties and celebrations, and many popular foods and drinks, such as candy, apples, and pumpkin pie, are associated with the holiday. Whether you're dressing up in a costume or simply enjoying some Halloween candy, there's no doubt that this holiday is a fun and memorable event for people of all ages.
Why Do We Celebrate Halloween?
Although most of the origins of Halloween are shrouded in mystery, there are a number of theories about its origins. One possibility is that it was originally a Celtic festival called Samhain, which was used to mark the end of the harvest season. Another theory suggests that Halloween may have originated with the ancient Roman festival of Pomona, which honored the goddess of fruit and trees. Nevertheless, the occasion is celebrated throughout the world. In the United States alone, people spend billions of dollars on Halloween decorations and candy each year. For many, Halloween is a time to dress up in costumes, go to parties, and enjoy festive foods and drinks. It doesn't matter if you believe in ghosts or not; there is no denying that Halloween is a fun and exciting time of year!
Halloween, Hollywood & The Heavenly Fashion Houses!
It's true that for many people, Halloween is all about candy, costumes, and spooky decorations. But the holiday has also been a significant source of inspiration for Hollywood and the fashion industry. Over the years, countless films and fashion collections have been based on Halloween themes. In the early days of Hollywood, filmmakers used Halloween as an opportunity to experiment with special effects and makeup. These films laid the foundation for a genre that would go on to be hugely popular with audiences.
Similarly, every year, the entertainment industry throws lavish parties where the guests come dressed in the most creative and often outrageous costumes. Many of these costumes are inspired by Hollywood movies or TV shows. For example, it's not uncommon to see partygoers dressed as characters from The Walking Dead or Game of Thrones. Other popular Halloween costumes are based on iconic Hollywood celebrities, such as Marilyn Monroe or Audrey Hepburn, the iconic characters including Joker, Jessica Rabbit, the Corpse Bride, etc. Moreover, every October, major fashion houses unveil their latest "Halloween collection," complete with eerie makeup and extravagant costumes. All of this means that Halloween has become one of the most important events on the Hollywood calendar, and its influence on fashion houses is here to stay!
Quick Insight On Last Year Hollywood's Star-Studded Halloween Gossip!
Since everyone is familiar with the yearly Halloween party of famous celebs dressed up, how about taking some minutes to recall the eye-catching trends or looks that you can recreate this season, too?!
Although each and every pop culture celebrity made it to the top list, the honorable mentions include Olivia Rodrigo's vintage glam, Justin Bieber's bear look, Taylor Swift as the giant-comfy squirrel, Lizzo as adorable Baby Yoda, and the show stunner The Weeknd as The Godfather.
Other than these, the Netflix famous Squid Games TV Series also remained a top hit in inspiring many people's Halloween costumes. The Kardashian-Jenners stole the show with their take on vintage, Sexy Snake, Futuristic Cowgirl, Seductive Martian, and Cat lady looks.
Nevertheless, you can always take a hint from such trending Hollywood celebrities' Halloween looks of all time, but the new stuff is awaiting you at Jacket Hub's Best Halloween Costumes, so let's dig that out!
Inside Jacket Hub's Halloween Outfits Collection:
Since Jacket Hub's everyone's go-to diverse, affordable, and reliable online shopping store, our latest Halloween season bundle also includes vast collections of Couple Halloween Costumes and in-demand Halloween Jackets. However, if you are looking for additional trendy fashion options for the season, better Shop Halloween outfits, listed below.
Scream 2022 Ghost Hooded Costume
Certain films have become synonymous with Halloween over the years, and one of these films is Scream, initially released in 1996. With a suspenseful, goose bumpy, and nail-biting plotline, the film is still pretty much famous for its iconic costume, i.e., the killer wearing a black hoodie and a white mask. Since then, millions of people have kept dressing up as the killer for Halloween, making it one of the most popular costumes in history till now. Luckily, if you are looking for a similar thrill but something better, there's nothing to worry about! With the Scream franchise releasing a new installment, we have sorted out the modified Scream 2022 Ghost Hooded Costume, which you can get for this Halloween season and take the scary-ghosting vibe to the next level!
Joker Joaquin Phoenix Red Suit
Although Joker has always been one of the popular inspiring sensations for Halloween, thanks to the legend Heath Ledger, the 2019 Joker film starring the actor Joaquin Phoenix further made sure no one forgets the essence of the iconic DC character.
Ever since the release of the Joker film, people have been going crazy over Joaquin Phoenix's fantastic performance. And what's not to love? His character is dark, brooding, and completely unique. But the best part of his look is the red suit. It's stylish, it's different, and it makes a statement. So this Halloween, why not channel your inner Joker and rock a red suit? You're guaranteed to turn heads and start conversations. That said, don't wait any longer; get your hands on the featured Joker Joaquin Phoenix Red Suit and start preparing for a great Halloween already!
Harley Quinn Live Fast Die Clown Leather Jacket
Likewise, the timeless Halloween, a leather jacket is still one of the most popular talks of the fashion houses, and if that's the case, what could be better than opting for the Harley Quinn Live Fast Die Clown Leather Jacket, right?
Although everyone's familiar with the ever-popular DC character Harley Quinn, the cinematic adaptation featuring the ever-talented Margot Robbie blew everyone's mind away! Further, it's no surprise that the actress's acting skills have always been spontaneous; her wardrobe in the Suicide Squad movie franchise is unforgettable to this date! From the platinum blonde pigtails to fitted pants and fishnet tights, Robbie as Harley Quinn is the epitome of bad-girl chic, stealing all the compliments, admiration, and hearts simultaneously! That said, if you think you can recreate the fashion magic of Margot Robbie as Harley Quinn, better get your hands on the Harley Quinn leather jacket for the upcoming Halloween parties!
Halloween Dracula Cloak
Most people think of Dracula as a timeless horror character. What they don't realize is that he is also the reason why many people enjoy dressing up in costumes on Halloween. In 1897, Bram Stoker wrote the novel Dracula, which introduced the world to the iconic vampire. The book got so popular that it spawned countless stage and screen adaptations, solidifying Dracula's place in pop culture. Over the years, the character has undergone many changes, but one thing has remained constant: his black cape. So if you're looking for a last-minute Halloween costume, consider going as the Count himself mainly by placing an order for the Halloween Dracula Cloak ASAP!
Halloween Ends The Shape Black Jumpsuit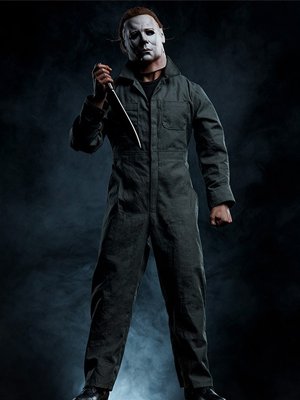 Michael Myers is one of the most iconic movie villains of all time. First introduced in John Carpenter's 1978 classic Halloween, Myers has since become synonymous with the holiday itself. For many viewers, the idea of a masked killer stalking innocent victims is far more terrifying than any ghost or goblin. What makes Michael Myers so unique is his complete lack of motive. He doesn't kill for revenge or pleasure but simply because he feels an uncontrollable urge to do so. Thus, with Halloween approaching, if you are thinking of taking your costume to the perfect scary level, it's time to steal the limelight and send shivers down everyone's spine by ordering this Halloween Ends The Shape Black Jumpsuit.
The outfit is inspired by the upcoming sequel, Halloween Ends, set to hit the screens this October.
Halloween Myers Orange Satin Jacket
Halloween is the perfect time to break out your satin varsity jacket! Not only will you be comfortable and stylish, but you'll also be functional. The jacket's smooth surface will help repel whatever costume debris comes your way, and the built-in pockets are perfect for carrying candy. Plus, the satin fabric will help trap heat and keep you warm if you get cold while out trick-or-treating. So whether you're attending a Halloween party or going door-to-door with the kids, make sure to reach for your satin varsity jacket. It's the perfect choice for any Halloween activity! Plus, with the iconic Michael Myers face printed on the jacket, we hardly believe that anyone would say no to treating you with candies! Get the Halloween Myers Orange Satin Jacket before it goes out of stock right now.
Harley Quinn Suicide Squad Red Jacket
Margot Robbie's iconic Harley Quinn character from the Suicide Squad movie has inspired many Halloween costumes. The funky and colorful style of the character is easy to recreate with items you may already have in your closet. For example, a fitting T-shirt or tank top can be worn with distressed jeans and fishnet stockings. Harley Quinn's signature colors are red and black, so try to incorporate these colors into your costume. A red and black tutu or a black leotard with red accents would be perfect. You can also add some temporary tattoos or face paint to capture the character's look. With a little bit of effort, you can easily dress up as Harley Quinn for Halloween. And while you think of all that, give your overall look a perfect finishing touch with this iconic Harley Quinn Suicide Squad Red Jacket, available now!
FAQs
1) What is Halloween?
Halloween is a globally celebrated event that occurs yearly on the 31st of October. It revolves around the tradition of welcoming dead ones to their homes by dressing up in costumes and scaring other spirits away.
2) When is Halloween this year?
Like every other year, this year, too, Halloween will be held on the 31st of October.
3) What is meant by Trick or Treat?
Since one of the traditions of Halloween is children going out in the neighborhood to ask for candy treats from others, the most used catchphrase is 'Trick or Treat.' Although treating means treating with candies, a trick is a warning or a threat that could occur when not given the treats.
4) Is it necessary to dress up on Halloween?
Although it is not necessary to dress up on Halloween, as they say, 'you must be fun at the parties' you can always choose between being the fantastic party person or a bummer who doesn't like dressing up on occasions like Halloween!
5) What are the most dressed-up looks for Halloween so far?
Considering the Halloween trends from the previous years, people have been looking forward to dressing up as Joker, Harley Quinn, Pennywise the Clown from IT, El from Stranger Things, The Weeknd's iconic red suit costume, characters from the Squid Game, Anna Delvey, and other iconic characters from MCU's phase 4 and 5.
6) What candies can be presented besides the regular ones?
Want to stand out in the case of candies this Halloween? It's time to ditch the regular ones and opt for donuts! And let's not forget the Halloween classics, i.e., M&Ms!
7) What are the traditional Halloween costumes?
Years or decades ago, Halloween costumes were not as evolved as they are now; hence, people still consider opting for traditional Halloween costumes such as spirits, Dracula, vampires, Frankenstein, or popular Disney characters.
8) What happens at Halloween parties?
Halloween parties are the hangout places for people who dress up as their favorite characters and spend the night partying, taking pictures, having the best costume contests, and whatnot. In short, they are fun!
9) Has Halloween changed over the years?
Many things have changed about Halloween over the years; people go way out of their comfort zones to dress up perfectly, the treats are still popular, and pumpkin carving is art. Then, there are feasts you wouldn't want to miss, and the best way to celebrate the occasion is to hang out with your best buddies!
10) How long will it take for Jacket Hub to deliver my ordered Halloween costume?
Jacket Hub makes sure to deliver your ordered apparel in one to ten days after sending out the order confirmation email.