I'm one of those who would probably say that Resident Evil is my favourite game in the long-running Capcom Franchise. I love the mixture of cheesy stories, real horror moments, and fantastic gameplay outfits that build greatly interest the audience toward this full fun package game. It's far from being a perfect game or true classic, but it's the entry I have personally played through the most.
If we talk about the most famous character of this popular gameplay is Leon Scott Kennedy. He is the fresh cop who arrives in Raccoon city on his first day on the job. Six years later, Leon returned to Resident Evil 4 as a secret agent for the US government tasked with protecting. Leon appears to have short brown hairs with fringes on each side and brown eyes. He wears a full-body R.P.D. uniform in Resident Evil 2 with a vest, unlike other officers. He can wear two alternate costumes in-game that change his handgun shooting style.
If you are thinking about what type of styling outfit this game has got. Resident Evil Jackets is here for you and we think that these pieces can be the best addition to your wardrobe. If you want to know how you can create the most stylish looks with these items then here are the best five looks for you. Basically, we want to show you all the fantastic Video Game Resident Evil Outfits and the best possible ways to style these things. Just check out these styles and then adopt them to get the most compliments.
Resident Evil 4 Shearling Leather Jacket
Make your looks even more amazing by owning the look of your favourite gaming character. Their dressing sense of Leon was simply awesome and was praised and loved by everyone. We have created this Resident Evil 4 Shearling Leather Jacket screen accurate not only enhances your wardrobe and attire but also helps in keeping you warm and comfortable.
Leon's outfit is similar to his first appearance in Resident Evil 4 in that his bomber jacket stolen by a Ganado is replaced with a dashing brown leather jacket with two pockets and he styled this exceptional outfit with magnum combat boots from his main outfit. So go ahead and grab this fabulously designed leather-tailored jacket and pick the best uplifting size for yourself
Resident Evil 6 Leon Kennedy Jacket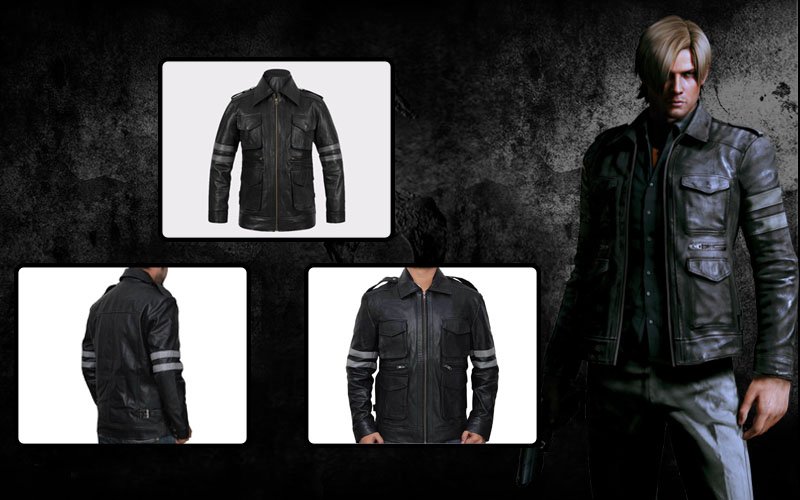 The super hit fictional character named Leon Kennedy has become the talk of the town because of the famous horror surviving game called Resident Evil. Due to his bold showstopping attire, he has gained his name in the fashion world. His eye-catchy wardrobe throughout the game series supported his cool persona and inspired the audience.
In Resident Evil 6 and its ending. Leon wears civilian clothing compared to his Resident Evil 4 tactical attire. He wears a Resident Evil 6 Leon Kennedy Jacket with dashing white stripes down to the sleeves that add some glorious details. A black buttoned shirt and pants are light grey and he styles this impressive attire with his Resident Evil 4 incarnation, namely the magnum combat boots. So have this masterpiece now and be the charm of the day.
Resident Evil 2 Leon Kennedy RPD Jacket
If you are looking for something for cosplay parties and Halloween then you are in the right place. This all-embracing Resident Evil 2 Leon Kennedy RPD Jacket is the ideal choice for those who didn't to invest their precious time in costume selection and want a speedy and easy-to-go outfit. you can reproduce the charming look of Leon Kennedy as the freshman cop with a stunning impression in your style. The exquisite durability and branded quality of this costume in a black adorable colour is justifying all the effort our designer made.
It is an ultimate form of sophistication and fresh and exclusive for the modern fashion style. If you are passionate about fashion, and a fan of Leon's look then this masterpiece will definitely inspire you. So don't think too much and order this Racoon Police Detective uniform and stole all the limelight of the night.
Ethan Winters Resident Evil Village Jacket
Ethan Winters was the major protagonist in the Resident Evil series. He was the system engineer in Los Angeles who was caught up in an incident at Dulvey Haunted House. He is quite a handsome man. He has short slicked-back blond hair, grey eyes, and a slightly muscular build. He usually wears a simple white shirt and grey pants which he styles with brown shoes.
After some events happen in the game he starts wearing the super classy green-coloured Ethan Winters Resident Evil Village Jacket which delivers his personality and outrageous confidence. He styles this amazing jacket with blue jeans and a brown pair of shoes. This multi-talented personality who is an ultimate source of dashing and dapper styles is giving you a complete style guide. The amazing charisma with which Ethan carries his role is exceptional These Video Game Resident Evil Outfits are a must-have for this season.
Ethan Winters Resident Evil Village Jacket
This Resident Evil Jacket is another leather tailor fantastic outfit which helps to stand out from the crowd of your peers. The leading man of the game series named Leon Kennedy has become the style hunk for his fans. The fabulous jacket attracts people around you and is going to mark your appearance with a class to main and hard to ignore.
A fashion-forward man need not be restricted by his office wear so if you are the one who is a believer in never restricting yourself this outfit is for you. This is a functional attire that screams class and delivers a polished look. So don't waste your time and order this comfort chic now before it gets out of stock.
Conclusion
If you are someone who has been looking for the best-styled costumes. Then this is our suggestion that you need to go through the above Resident Evil: Leon Kennedy 5 Best Stylish Jackets and gets a powerful vibe of this fabulous character with a magnificent dressing experience.